Are inflatable paddles prone to aging? Are inflatable paddles durable?
10 Questions You Must Know When Buying a Surfboard - Fayean
1. How to store?
Don't put the board in a place where it might get too hot or too cold,
The recommended storage temperature for the board is between 5°-45°.
The deflation of the inflatable board can be rolled into the backpack, which can reduce the space occupation.
2. Should the inflatable paddle be inflated or deflated?
It doesn't matter whether it is inflated or deflated.
If you want to keep it inflated, you won't have to re-inflate next time you play,
It is recommended to let out a small amount of air, in case the temperature where you store it is too high,
Thermal expansion destroys the seal on the side of the board, creating an air leak.
3. Will the board get moldy in storage?
Make sure your boards are completely dry before storing.
Before you pack the inflatable board,
Be sure to rinse it off with clean water first.
Then let the moisture dry before folding and storing.
4. Do the fins need to be removed?
If you don't play for a long time,
It is recommended to remove the fins for long-term storage,
It also prevents the improper placement of sharp objects from causing injury to the elderly and children at home.
5. Can it be placed in the sun?
Remember, you must not leave the board in the sun for a long time.
First, the sun's ultraviolet rays will discolor the board;
If the inflatable board is exposed to the sun for a long time, it will also appear bulging and other phenomena.
If you have to put the board in direct sunlight for a period of time, it is recommended to use a reflective bag.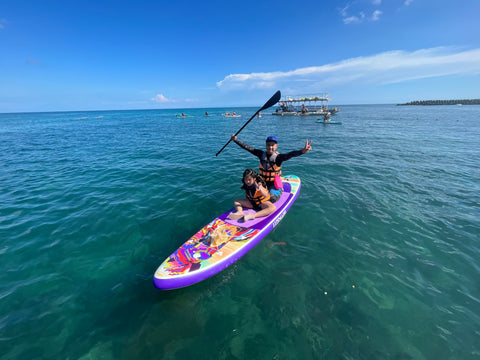 6. Is the inflatable board durable?
The fayean inflatable board is made of high-strength PVC reinforcement,
The material is comparable to the military material,
Not afraid of knife stone scratches, not afraid of car rolling.
7. How stiff are the inflatable paddles?
When fully inflated to the recommended 12-15 psi,
An inflatable SUP is comparable to a hard paddle board,
They can be placed on two chairs,
Supports an adult adult standing in the middle of the board without collapsing.
8. How long does it take to inflate?
The fayean air pump is a two-way pump,
Can support inflation and deflation, two adults take turns to inflate,
8 minutes to complete.
9. Can surfboards be brought on the plane?
After the fayean inflatable board is deflated, the weight is between 10-20KG.
You can pack it in a backpack and take it away.
10. Does the surfboard have a warranty?
Under normal circumstances, 7 days no reason to return the goods, 3 months free maintenance for quality problems.